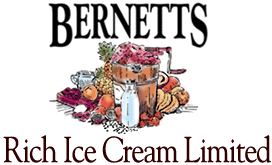 Bernett's Rich Ice Cream ltd. has been producing hard pack ice cream for 16 years and is considered by many as one of the best homemade ice cream producers in Montreal. It has won awards for the best vanilla ice cream in the city in "Quest for the Best" Gazette newspaper opinion poll in 1998 and has not been defeated yet.
Bernetts is at the forefront of the industry in innovation of hard ice cream flavours as well as product manipulation (Creation of unique ice creams, sorbets and other niche market products.)
Bernett's Rich Ice Cream Ltd. mission is to provide unique products in the ice cream industry. Its latest creation "Heavenly Delite" is a product that ice cream retailers use to produce their own soft serve mix. Retailers will be better able to control their inventory and offer consistently fresh product to their customers.